50th Annual Democrat & Chronicle Al Sigl Sports Classic Golf Tournament
June 10, 2019 at Midvale Country Club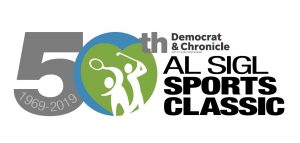 50 YEARS and still giving!
Join us as we celebrate Rochester's oldest charitable golf tournament! Enjoy breakfast, incredible refreshments throughout the course, and a celebratory dinner to end the day.
Join us in recognizing the many good friends who have raised funds to help over 55,000 children and adults of all abilities served by Al Sigl Member Agencies.
Sponsors receive recognition and exposure while making a real difference. Learn more.
For more information please contact:
Christine Lemcke, Event Director
585.442.4102 ext. 8944
clemcke@alsigl.org
Register Today